High Precision Agriculture Spraying
Powerful and precise, Oryctes tranforms crop spraying for agribusinessess of all sizes. 
Oryctes is the first high accuracy point-to-point agriculture spraying drone created specifically for oil palm as a proven solution against damaging pests such as Rhinoceros Beetles
Cutting-Edge Precision Point-to-Point Spraying
Harnessing RTK positioning technology and a unique single-nozzle design, Oryctes sprays with centimetre-level precision. Precisely control the quantity and area of spraying to avoid using excessive pesticide
Proprietary Purpose Built Software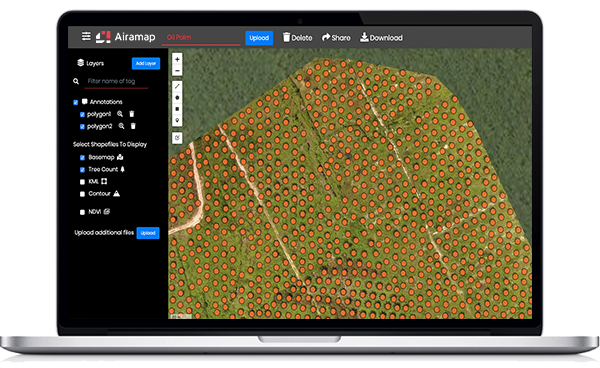 Advanced aerial mapping analytics software powered by our very own A.I engine.



Gather essential telemetry data and track live drone location through the Oryctes Flight App. View missions and flight paths of your Oryctes.
Oryctes Ready-To-Fly Package
Ideal for first-time users, this package contains one unit of Oryctes Dual and everything you need to set up and start flying.
1 unit of Oryctes Dual
1 unit of Oryctes remote controller
Android phone with Oryctes Flight App
4 sets of Oryctes batteries
1 RTK base station set
1 Oryctes battery charger
Accuracy of RTK Spot Spraying Using Oryctes
Review spot spraying accuracy of Oryctes drone in spraying operations for oil palm plantations.
Have questions? Our drone experts are here to help